February 24-25, 2001
Rick Schneider & Jude Schlotzhauer
Virginia Commonwealth University
10 students, mostly Peninsula Glass members, attended this 2 day workshop at VCU in Richmond. The class concentrated on fusing projects, where students had an opportunity to cut detailed shapes on the diamond bandsaw, learn decorative techniques including combing and pattern bar making, all under the expert supervision and direction of glass artist Jude Schlotzhauer. Use color bars designed and fired by Jude, Rick Schneider took the cut pieces, fused them back together in different order, and then rolled the newly formed flat panel into a cylinder (that's the simplified description). After shaping and forming by repeated reheating in the high heat of the gloryhole, then blowing out to the desired shape, a beautiful and highly unique vase was created. This was the demo for what he would do to the finished fused flat panels the 10 students produced on Saturday. The vase was then given away to one lucky student in a drawing at the end of the workshop.
On Sunday, the 10 panels were cleaned up, trimmed down, reheated in the annealing oven, and the magic began. Rick, working with two assistants, heated and then rolled up each panel around a new molten collar of glass. The process continued with reheating and shaping until each flat multi-layer fused panel was turned into a unique blown glass vessel.
Thanks to Jude & Rick for presenting this great workshop.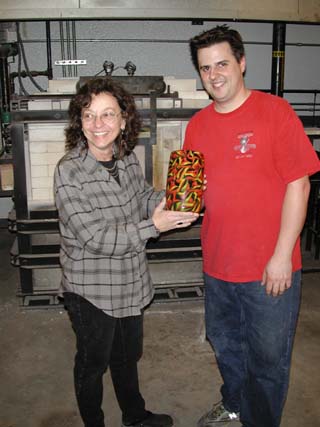 Jude Schlotzhauer & Rick Schneider with the "demo" piece
More Pictures later....