The Peninsula Glass Guild

Herland Ortiz - ONENESS
The Peninsula Glass Guild is a non-profit organization established in 1986 to promote quality art glass in the community, and to provide a forum for glass artists to gather together for educational and support purposes. While based in the Hampton Roads area of Virginia (Hampton, Newport News, etc.) the group now has over 50 members located throughout the Commonwealth of Virginia. Membership includes both professional and non-professional glass artists working in a variety of glass techniques.
Each year the Guild presents an annual juried show to highlight the members efforts over the past year. In addition, , the Guild creates a large piece of art glass and donates it for display in a public place. This piece is funded by the Guild and by donations, group-constructed, and ultimately installed for the public to enjoy. Among the locations where these pieces have been installed are the Newport News SPCA, the Virginia Living Museum, the Charles H. Taylor Arts Center, the Yorktown Victory Center, The Virginia Medical Center, the Virginia Air and Space Center in Hampton, Shelton on the Bay in Phoebus, The Newport News Main Street Public Library, the Virginia Holocaust Museum un Richmond, and others.
The annual juried show is held during the December to January period. This year's show was juried by Gary Baker, Curator for Glass at the Chrysler Museum of Art in Norfolk Virginia. Mr. Baker is internationally renowned as a glass curator, and joined the Chrysler in 1982. As curator, he has one of the world's best collections of glass under his care, and has guided the collections through several museum expansions.
This years annual show, the 11th in Guild history, runs from December 5, 1997 to January 18, 1998 at the Charles H. Taylor Arts Center in Hampton Virginia. The show is open to members and others, and features work created in the past year. A wide variety of glass techniques was on display. Pieces accepted into this year's show included works of stained glass, cast glass, blown glass, torch worked, painted, fused, fired, cold worked, and others.
Besides the juried show, the Best in Show winner from the previous year's show is produces a one person show at the next year's show. Last year's winner, Herland Ortiz, exhibits his body of work in the Armstrong Gallery at the Charles H. Taylor Arts Center. The show, entitled ONENESS, runs concurrently with the member show, through January 18, 1998.

11th Annual Juried Show Awards
---
Best in Show Emilio Santini

---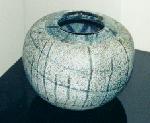 Second Place Daniel Scogna
---
Third Place Neil Duman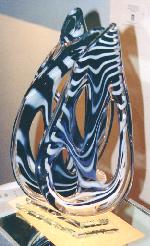 ---

Awards of Excellence
The Ira Hirshman Memorial Award for Excellence in Stained Glass
Award for Innovation in Stained Glass
Awards of Merit
Amy Lisnyk
Susan Welteroth
---
The Guild would like to thank the following individuals and organizations for their generous donations this year:
The Glass Gallery
Goodman Hardware
Lee Hershman
Kingsmill Art Studio
Joan Masuck
Janet Rash
M & M Glassworks
Special Thanks to:
The Hampton Arts Commission
Evelyn McDonald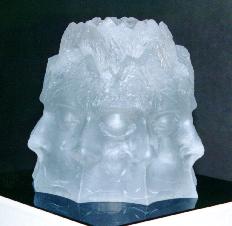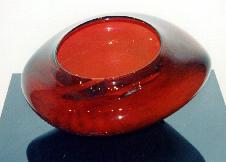 From ONENESS
Works by Herland Ortiz
---

This page is currently maintained by Rick Nelson and was last modified on Dec-05-1997